Parts kits, oddly enough, pop up more often than the disks themselves. Keep a watch on the usual eBay. Tomacs old mechanic Bob G might have spares too. He's in CO also right?
I landed a titanium bolt kit for a T-Disk which I used on the wheel of the Tomac. I need to make sure I have enough parts to built all my disks up, but if I have spares, they're yours.
As a mini lesson in T-disks that I've learned (so take it for what its worth)...
The white sheets in my posted picture above is an early Sugino Disk Drive, which Tioga branded as their own.
Below from left to right.
The newest version of the T-disk was a 'radial laced' 32h version. These are said to hold up better than the earlier versions...whatever that means.
In the center, the earlier 'blue' cross laced 36h version with the difficult access hole. (The newer, non-Pro versions of the blue disks has the redesigned access hole like the disk on the far right.)
The disk on the far right is a 36h cross laced T-Disk Pro. The access hole is much easier for inflating tubes and the disk loses the mesh wire that the blue ones have.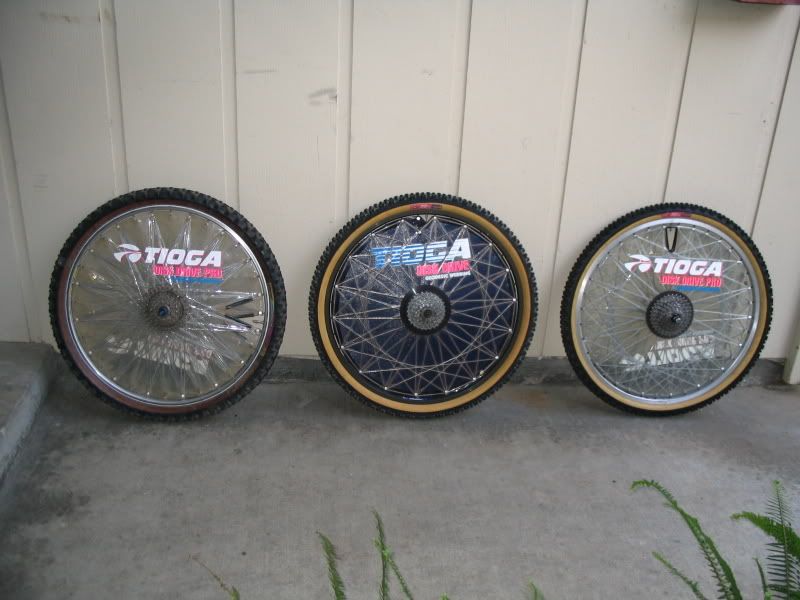 And just for fun.