For those of you that have read the front page article and would like to ask Mike any questions about his riding or something else that grabs you post it here...
Just like to say thanks to Mike aka Ameybrook for being our first spotlight member so be nice people....
In the first of a new feature 'RetroBikes' social secretary and resident crash merchant James 'Hilts' Freeborough caught up with Mike 'Ameybrook' Wilk to find out a little bit of background on one of the Retro brotherhood from the U.S.
Personal profile
Name – Mike Wilk
RetroBike Alter Ego – Ameybrook
Age - 27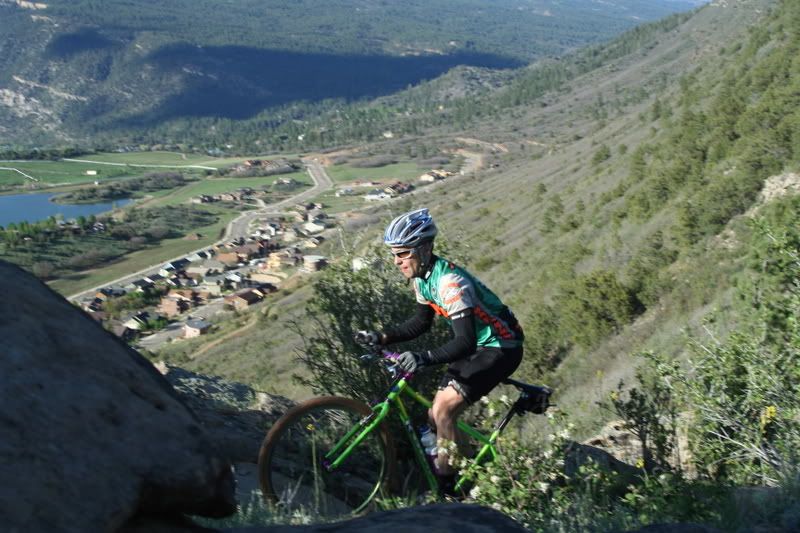 JF – Hi Mike and thanks for being the Guinea Pig in the first of our 'RetroBike.co.uk' member profiles.
MW – No problem.
JF – First off, why 'Ameybrook'??, you realise that you got some of our brood thinking we'd actually attracted a female member to the site, Jez was about to propose!
MW – haha, 'Ameybrook' is the name of one of my favorite riding places back east [Ameybrook State Park, Henniker, NH]. When I first started using the Internet back in 1995, I had no ideas for a username and one of the AOL suggestions was 'a favorite place of yours,' so Ameybrook has stuck with me ever since.
JF – So tell us how you first got in to Mountain biking?
MW - I started mountain biking in 1992 when I was 12 years old, my father bought me a Huffy Revolution for Christmas and I rode to and from school. Eventually I took it offroad, and when the local golf course held a race, I decided to enter. Afterwards, I was hooked. Mostly because I didn't know you could build trails to ride on rather than just bomb through the woods J I raced my Huffy bike all through 1992-93, and that winter I upgraded to a 94 Kona Lava Dome, which began my love affair with bikes and bike parts.
JF – I believe you did quite well in the races?
MW - Well yeah it turns out I was a pretty good racer. I Won the New England Junior Championship multiple times, was sponsored enough to get free bikes, parts, etc when mtb racing was in its heyday. After high school I moved out west to Durango, Colorado, and I won a slew of collegiate titles with Fort Lewis College. I turned pro in 2000, and I guess my 'career' highlighted when I went to Worlds as an Espoir in 2001. I won a lot of races, but never really 'broke through' so to speak. I still race quite often, and although my license still says pro, I rarely race like one…
JF – Wow, that's great. Excuse my ignorance but what's an Espoir ?
MW - Espoir is a designation they give to young riders between junior and senior. They also call it 'U-23,â€

_________________
MTB - 1989 Ritchey Ultra , 1990 Explosif, 2001 Santa Cruz Superlight
Road - 1984 Koga Miyata Gents Racer, 2009 Pegoretti Duende

Wanted - 1" black quill stem with cable stop.

'It doesn't get easier, it just gets faster' - G Lemond " Everything in life's a race mate" - G Farmer