...next try...
hub looks similar to this one: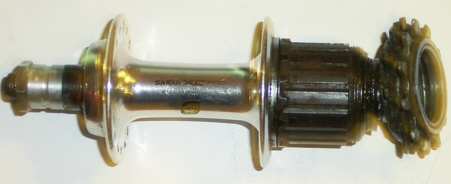 So the last sprocket is screw on the second last which is screw on the freehub body.
Looking from the right side it´s like there are two rings: the outer one belong to the last sprocket, "inner ring" belongs to the second last sprocket.
The 11 teeth diameter (=micro drive) is to small for the freehub body so they made this...outstanding...part of mtb history (sometimes I think suntour got what they deserved).
Try to remove the second last like you usually tread the last sprocket; so you can both release together.
No, shimano freehub won´t fit the suntour hub and yes, that is just one more reason to switch the brand...sad, but true.
Hope this helps.
Best wishes, Markus