Archangel's 1993 Klein Adroit 'Tinker Juarez Replica'
Ever since I saw a Sachs chain add featuring Tinker Juarez on his Klein Adroit EX in Team Storm paintjob on the pages of Mountain Bike Action magazine in 1993, I have lusted after a similar Klein. I remember drawing pics of Team Storm Adroit on my Physics exercise book during high school lessons. At the time, it was more exciting for a young man than learning about gravity!
Fast forward 12 years. After graduating from the University, I was able to get a good and well-paid job and my love for the bikes from my teen years began anew. Now I was able to buy those bikes I drooled after while reading the American bike magazines but never had funds to buy any of them. From the beginning of my retro bike collecting hobby, I knew I HAD to find a Storm or Nightstorm Klein for me some day.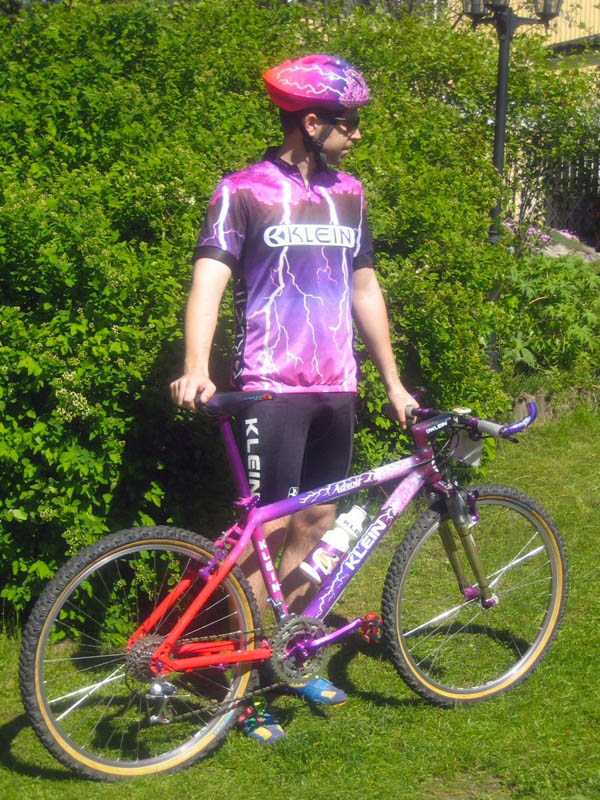 Archangel & Klein
A few of those appeared on eBay but I missed them due to bad luck. Then IT popped up on eBay in October 2007. A Klein Adroit in 19″ size and with Team Storm paintjob. But there was something different with this bike. It had old style Klein logos whereas all the others I had seen had the new MC2 era font type logos. The paint was somewhat different too compared to other Storm Kleins. The frame was used and had many scratches on it and on top of that, fellow Retrobike members started to call the thunderclouds as brains, mocking them as ridiculous. I thought, well, this might be my only chance to buy a correct sized Storm Klein even if it had a suspension fork and not my favoured rigid Strata fork. In a retrospect, several Storm Adroits have appeared since on eBay but none of them have sported the early paintjob.
I put up a large bid on eBay and got the frameset for a very expensive price. As it turned out, the seller was a really nice guy from New York, USA who happened to be a huge Klein fan with numerous Attitudes and Adroits, many of them NOS. Since the price was about 4 times more than he had paid for the bike some years ago, he gave me the other parts (wheels, drivetrain, etc.) for free and charged only the USPS shipping costs while he shipped it with FedEx. Quite nice thing to do even if he didn't need to.
When the bike arrived, I felt that my Christmas present arrived early. When I examined the bike, I noticed some strange features on it, like bottle cage mounting holes in the bottom of the downtube. This shouldn't be odd but they were near the headtube and the bolt holes were too small for the normal M4 bolts. I have never ever seen similar holes on any other Klein.
I started to think what kind of a setup should I build the bike with. I had a complete XTR M900 group with all the Klein components like seatpost, tyres and bottle cage at home so that would have been an easy way out. However, many fellow forum members started to ask me to make it a Tinker Juarez Replica. I thought that it would be a very expensive a probably a very time-consuming project but thought that the outcome would be a very special bike. The next thing was to decide, what setup I should aim for since Tinker's bike changed during the season. I decided to go with the most iconic one, with Rock Shox Mag 21 SL/Ti forks, purple onZa barends and red Look Moab pedals.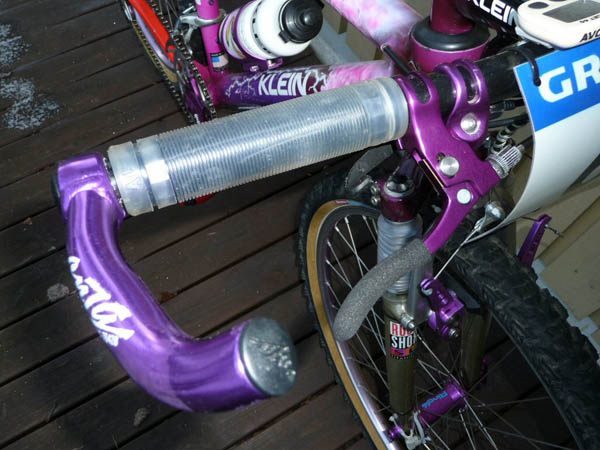 Controls
I posted some 'Wanted' adds to Retrobike and MTB-News.de forums and after a while I started to receive offers for purple Grafton and Ringlé parts. The dedication of the fellow forum members was such that they even e-mailed me if they noticed some needed components on eBay or sales forums. The most difficult parts were going to be purple Grafton shifter perches but as it was, Jez happened to have a pair. He didn't want to sell them but wanted to exchange them for a turquoise pair. Easier said than done but I managed to find such a pair from eBay and we made a swap. Another cool thing was that Kev scanned me his old racing number plate from a Grundig World Cup race at Plymouth and I modified it to look like Tinker's number plate.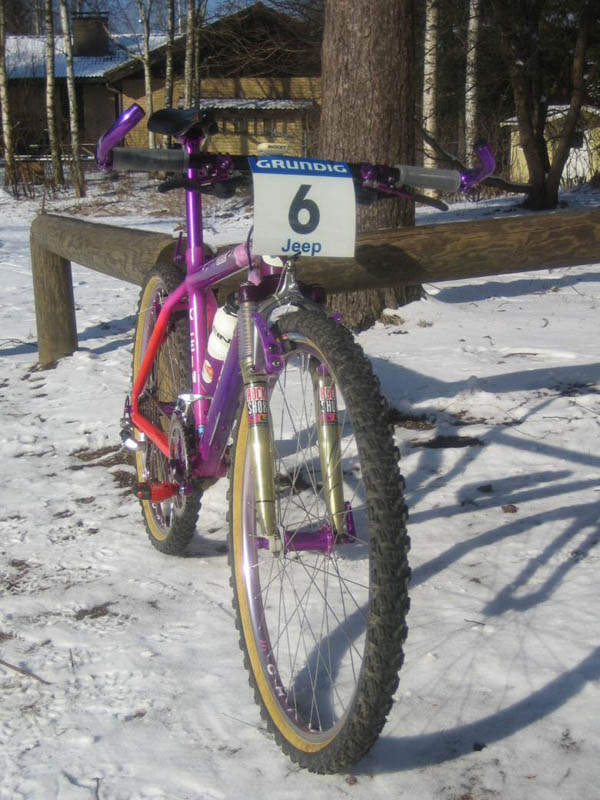 Front End
A real high-point for the project came when I sent an e-mail to Mr. Juarez himself. I told him that I have this Adroit and I'm going to build it like his old race bike. I also asked him some setup questions. Tinker never answered my questions but he said that his friend has his original race wheels from that Klein and gave his e-mail address. I contacted the guy and he told me that the wheels are on his wife's 'grocery-getter bike' and that he could sell them off. After some short price negotiations, the wheels were on their way to me. And what wheels they are! They even have the UCI inspection numbers from the 1993 Worlds!
During the project a MC2 Adroit in Storm appeared on eBay. And what was special was that it came with a Leader Gara Pro helmet painted with Storm paintjob. I contacted the seller who turned out to be an ex-Klein employee. He told me that only 5 of those helmets were made: 2 for Tinker, 2 for Sara Ellis and 1 for Klein employee. And this one was that employee's helmet. The seller also told me that only 30 frames were painted with this Team Storm paintjob, most of them being Adroits (all the others were Attitudes). The bikes were meant for the Klein-sponsored racers and were never sold to the public. I have seen only one similar Adroit (it's currently rumoured to be in Denmark) but all the others have never surfaced.
As for the helmet, it turned out that Thilo from Germany bought the frameset and we made a deal for the helmet. I also managed to find correct Klein jerseys, shorts and SIDI shoes for the Tinker outfit. Next thing was to grow up a long curly hair and color it black but that was too far even for a dedicated soul like me!
The last parts, correct ATI Montane grips and purple dust caps for the cranks arrived in October 2008, so it took me about a year to complete this bike. I thought it would take years and years to find all the correct components but with the help from Retrobike and MTB-News.de forum members, the project was completed in a surprisingly fast time. So big thanks to you all once more!
I am happy to have been able to realize my dream and own a one special bike that I lusted after some 16 years ago!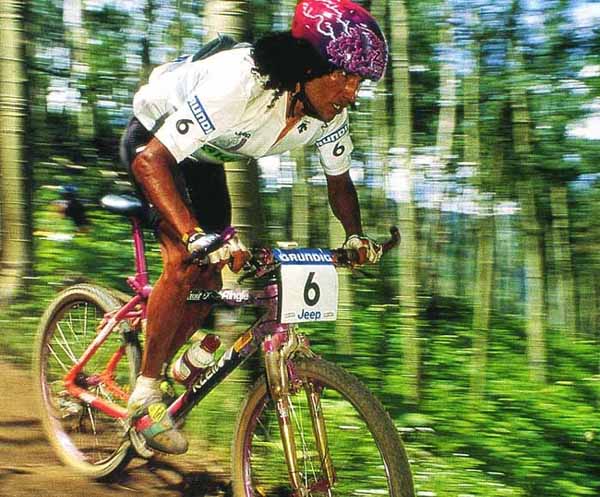 Tinker Juarez and Klein