In the early 1980s, Chris Chance, an American frame-builder who specialized in TT and criterium bikes, formed Fat City Cycles in Somerville, Massachusetts, and began building mountain bikes. He had an intuitive and prodigious talent, and over the course of the decade was building the best handling off-road bikes in the world, including the Fat Chance with a relaxed, upright position and the more responsive Wicked Fat Chance with quicker-handling geometry. For the 1990 model year, Fat City Cycles launched a new top-of-the-line racing model, the Fat Chance Yo Eddy! Team. Combining everything Chris knew about designing efficient, quick-handling bikes for criterium races with almost a decade of building the sweetest handling mountain bikes, his resulting effort was perhaps the finest handling mtb ever built.
The Yo Eddy was hand built in the Somerville, Massachussetts factory, and TIG welded from quad butted, heat-treated True Temper 4130 chromoly steel. The frame weighed 4lb 5oz, and the fork 1lb 12oz, and every bike was a work of art. All the major cycling magazines praised the Yo Eddy's sublime handling characteristics, incredible climbing and descending abilities, and almost telepathic responses to rider inputs. Seasoned bike journalists were astonished by the craftsmanship, examples being the silver brazed cable guides, strengthening gussets around high-stress tube junctures, and frame alignment accuracy to within one thousandth of an inch.
I first saw a Yo Eddy in Covent Garden Cycles, around 1990. They had an aquafade frame and forks on display, perched imperiously on the wall above head height. I craned up to check the price tag, and stood motionless, open mouthed and astonished, after reading it: GPB 900. The frame and forks alone cost three times more than my entire bike – a Saracen Tufftrax – which I thought was the pinnacle of quality. Could it possibly be worth that much money?

1993 Fat Chance Yo Eddy in the iconic 'Grello' colorway
In 1999 I discovered for myself that it was. I had just lost my bike, a 93 Scott Windriver, to a thief, and urgently needed a new one for a cycling and camping trip with two friends down to Cornwall for the solar eclipse. I was in Bristol, and walked into Bristol Bicycle Workshop on Park Row. It was a junkyard of bikes stacked around the room on two levels, but I knew from previous experience that there were some lovely bikes tucked away there, usually disguised with a layer of dried mud and road grime. Nestled discreetly at the back was a medium Yo Eddy, green and blue, that looked well used, not quite original, but frame and fork in good condition. It had mostly XT, Ringle Moby seat post, and Mavic rims. I asked the shop owner for a quick test ride, hopped aboard, and zipped straight up St Michael's Hill, one of the steepest in Bristol, in the middle ring. I could not believe how stiff and efficient the bike felt, especially the rear triangle, on the way up. I guess it was the short chainstays, light weight, and legendary 'zing' of a top quality steel frame. Coming back down, it felt fantastic. Sharp, agile, yet stable and planted. The drivetrain was pretty worn, the brakes weren't brilliant, and most of the components looked pretty tired, but I didn't care in the least. I was buying it. I paid GBP 500 for the bike, and was thrilled to bits. Only afterwards did I realize that I couldn't fit a rack and panniers, and it was completely unsuited to cycle touring. I didn't care. I shoved my camping gear in a 70-litre Berghaus rucksak, and through gritted teeth focused on the scenery and comradeship rather than my screaming lower back and shoulders.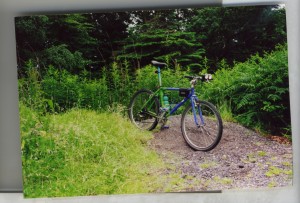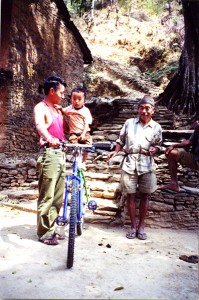 Author's own Fat Chance Yo Eddy
On the morning of the eclipse, we were on a headland just south of Mevagissey, and the sky was completely overcast, as was most of Cornwall. Just moments before totality, the wall of darkness raced across the bay at 1000mph, and plunged us into nighttime. Looking up, the clouds parted and we saw the corona for a full two minutes. Only afterwards did we realize how lucky we had been, and nearly everywhere else in the South West had remained overcast throughout.
It was a wonderful trip. And – once I had finally removed my rucksak after three days on the bike – I realized that, for blasts around the North Downs and the occasional Welsh trail centre, I had my dream bike. I still have it to this day.
Buyer's Guide
If you have your heart set on a Yo Eddy, there are a few issues to bear in mind. Fat City Cycles built them at Somerville from 1990 to 1994, when the company was taken over by Serotta and production was moved to Saratoga, New York. Geometry and construction methods remained the same, and quality stayed top notch, but purists value earlier, Somerville-built bikes higher than the later bikes for their originality.
Suspension forks were incorporated into the line-up in 1995, while 1.1/8th inch forks were introduced in 97. The same year the Yo Eddy geometry was corrected for a 2.5" suspension fork. Production continued until 2000, when the final Yo Eddy rolled out of the Saratoga factory.
Common issues are rusting seat tubes and stuck seatposts. Some owners have had the seat tube replaced altogether, which given the quality of the frame is a viable option. The original Big One Inch fork is rare, and commands high prices. Some Yo Eddy owners have replica BOI forks built up, while those with suspension corrected models usually opt for a Rock Shox Judy or similar.
For more information, visit the Fat Chance Owners Group. To find a Yo Eddy be sure to check out the retrobike classifieds and auction watch pages.