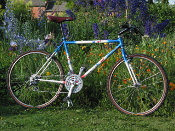 May 2011 sees a welcome return for the Feature Bike series. First up is doctorbond's 1989 Team Peugeot / Roberts White Spider (click for original build thread). Enjoy!
I've always had a soft spot for old Peugeots. In fact, one of my earliest off road memories was as a kid, bouncing along a dirt track in the back of an ancient 404 estate. And when Peugeot turned their hand to producing off road bicycles during the MTB boom years of the 1980's, it was a similar no nonsense sturdiness that typified the machines that they created: great for touring and recreation but not out-and-out racers.


Which is why, when in the late 80's Simon Burney's Ace Racing cyclo-cross team was asked by sponsors Peugeot to compete as an MTB outfit, he ended up looking closer to home for the race machines that his riders needed.
Burney had started the Ace team in 1987 with fellow riders Tim and Julian Gould, Chris Ledger and Steve Barnes. Peugeot backing followed for the 87-88 'cross season, along with the addition of David Baker as team rider. Then, to coincide with the launch of the 1988 Peugeot MTB range, the team converted some the stock bikes they'd been given with lighter cyclo-cross gear and raced them in the newly created UK Shimano MTB series.
By bringing the professionalism and fitness levels of cyclo-cross to the burgeoning sport of mountain bike racing, the team made great progress, and by August they were off to the World Championships in Crans Montana, Switzerland (remember that prior to 1990 there was a 'Worlds' both in the US and in Europe).
It was for the Swiss event that Burney first engaged UK custom frame builder Chas Roberts to produce the bikes needed to be competitive at the top levels of the sport.
This is one of the 1989 team bikes that came to light in 2009, and that I have gently restored on Retrobike. It retains many of the original racing parts including wheels, stem, bars and signature burgundy Look saddle. But frame is everything. Roberts is well known for combining traditional frame building techniques with an eclectic use of materials, especially Columbus and Reynolds steel. Gould's bike combines a Reynolds 753 rear triangle and forks with a fillet brazed front triangle made from Reynolds "Service de Course". As far as I can ascertain, this essentially gives the builder carte blanche to combine his choice of the range of tubing that Reynolds had to offer (and I suspect that there is some Columbus used in the build too). The componentry used on the bikes was initially a mix of Shimano, Mavic and Wolber, with Campagnolo groups featuring during 1989. It is a testament to the quality of Roberts' work, that after a year of hard use on the international race circuit, followed by further duties as the machine was passed to junior riders within the team, the frame is still tight, straight and true. Handling is direct and responsive and shines in technical climbs and fast hardpack.
By 1989, Fred Salmon had joined Tim and David, and all were riding Peugeot-badged Roberts. Tim and David competed in the NORBA series and Worlds in the US, with Tim winning the NORBA finals at Big Bear (Ned Overend 2nd) and the Hill Climb at the Worlds (Don Myrah took overall top honours that year). By 1990 when Tim took 3rd XC and 1st in the hill climb at the first 'official' UCI World Championships in Durango, the Peugeot team had moved to lighter-framed Ritcheys as part of a distribution deal with Peugeot.
Yet a big appeal of this bike is that it comes from that brief and evocative period in professional mountain bike racing before the scene had become, too official. In those end days of the 1980's, the bikes were rigid, usually steel, and were used in each of the different disciplines that made up the racing. And yes, it was possible to tig weld light and strong MTB frames, yet this Roberts Peugeot was custom built, fillet brazed and raced in disguise – a rare meeting of craftsmanship, craftiness and sporting professionalism.