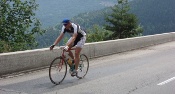 Get your old road irons polished up, shave your legs and don your Bolles as we're running a Retro Road Ride (AKA The Welsh Borders Grimpeur) on Saturday 24th July.
What does it involve, I hear you cry?
A stunning, scenic and undulating Sportive style 90 km ride on very quiet country roads with a country pub lunch/stop. There's plenty of climbing but nothing super steep so with a compact and a bit of fitness all should be fine.
Where is it happening?
The ride will start and finish in Hampton Bishop, just outside of the cathedral city of Hereford.

Accommodation?
If you want to stay over there's a very good campsite about a mile and a half from the ride start/finish, plus good B&B option 3 miles away in the next village.
Anything for partners and/or nippers?
Herefordshire is a very pretty county and there's plenty of opportunity for strolls with an ice cream along the river bank, great open parks and pretty, sleepy black and white villages with quaint antique shops.
Do I have to ride an old road bike?
Riding retro is certainly encouraged if at all possible but if you haven't got anything ready then modern is acceptable (although expect some good natured ribbing). There will be a 'best in show' rosette for the sweetest old school ride.
Flag up that you're planning to come here and we'll add a list of attendees.