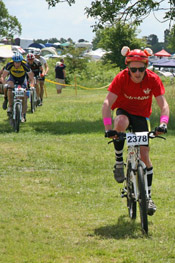 Mountain Mayhem 2012 is looking to be the biggest and best ever for Retrobike. The weekend's schedule is now finalised. So whether you're racing solo or just coming along to hang out and heckle there will be something for you. Click here for full schedule. Once again we'll be supported in our efforts by Bikefood who will be supplying Sports Nutrition. We're also getting support from Church End Brewery who'll be supplying some Retrobike Beer
Highlights include
• The Retrobike Concours Show
• BBQ
• Retrobike Beer
• International Dual Jenga Knockout
• Flea Market
• DJ Isosceles
• The Blagathon
• Trackside heckle tent
• The megaphone
• The intruder
• Some racing (perhaps).
See you at MM