Over a couple of pints in December, a friend suggested we ride the Fred Whitton (the event website describes it simply as "…. a 112 mile ultra hilly (mountainous!) challenge ride over all the famous Lake District passes in a single day ride".). Glowing with festive cheer I readily agreed, confident that with it's popularity that we would never get in. We did. What follows is what happened, as best I can remember.
After packing the car in the dark on Friday night, I had a restless sleep plagued with thoughts of not enough training and fear of what the event would bring (not helped by late rider information from the organisers that described poor road surfaces – potholes, corrugation from ice and snow, hairpins etc. – on 7 of the 9 major descents). Still, in the evening I'd eaten homemade shepherd's pie, a pizza and four packets of crisps with houmous so both tapering and fuel preparation would see me through.
Saturday dawned with strong winds and rain which continued as I drove North although by the time I arrived in Hawkshead the rain had ceased but the wind was still chill. I signed on and was concerened at the number of lean, sinewy men around – where were all the normal shaped people?
Moving on to the overnight accommodation to wait for my mate to arrive, I chatted in the YHA carpark with another chap, a veteran of 4 previous Whitton's, and as I wandered off, I heard him incredulously telling his companions "..he's riding it on a 20 year old steel bike. With downtube shifters!".
It seemed that most of the hostel was taken over by Whitton riders and the storeroom was full of Cervelos, Parlees, the odd Specialized S-Works and Lynsky. I kept my style powder dry with my bike in the car.
Sharing our dorm were two other chaps, one off here (Finbar) and his Polish mate (whose name I can't spell, apologies). We ate together (soup, gourmet lamb burger, chocolate sponge for three of us but pasta and pine nuts for the Polish chap because "I am professional'. And with a time of 7 hours 20 the previous year, who were we to argue?).
All too soon it was 5.45 a.m. and time to try to force down food for an early start (muesli for me, 6 brioche and a tepid Muller Rice for my mate). The lean, sinewy men in the hostel kitchen were very chipper, smiling even – I'd been expecting an atmosphere similar to 1918 before going over the top, although possibly with less poetry.
We rolled out of Coniston at 6.50 a.m. The weatherw as chilly and although the wind had mercifully dropped there was a threat of rain in the air. Up ahead were 10 serious hills with names from Lakes folklore including Kirkstone, Honister, Newlands, Whinlatter, Cold Fell, Hardknott and Wrynose. Seriously, what had we let ourselves in for?


Only a mile or so from the start and we were into Hawkshead Hill, a nasty little sharpener. Almost immediately my mate gashed his thumb badly on his downtube shifter, smearing blood liberally across his Roberts in the process (this was not to be his only mishap as he managed to fall off 4 times on the ride, all while motionless). Not to be outdone, my gears slipped and I managed to whack my ankle on the crank and my knee on the bars. A good start.
The next 40 miles or so is a bit of a blur – a couple of decent climbs in Kirkstone and Matterdale End and some stunning riding alongside various lakes. Suddenly however we were at the base of Honister, almost out of nowhere. And it was steep (how steep? Certainly 1 in 4, possibly 1 in 3 at the base). Not confident that my gears wouldn't slip I climbed seated, having a couple of wheel lifts but just about managing to keep the front end down. The descent that followed was awful – corrugated, ultra steep and with a chicane over a bridge part of the way down. It was also spitting rain, my wheels were locking up and I wasn't particularly relaxed (I'm a confirmed non-descender but just to put it in perspective my mate is an absolute demon who loves it and he said he was wearing his brown trousers). Still, we were now at the first food stop at 52 miles and although weary I wasn't feeling too bad.
Setting off we were immediately into Newlands and those half dozen tuna sandwiches didn't seem like such a good idea after all. Towards the top it steepened again round a corner but there was the photographer so best to adopt a good look and do the Retrobike kit proud. Accelerating into the bend, out of the saddle like a tubby Contador and the gears slip – the photos aren't out yet but I'm expecting they'll feature me mouthing obscenities.
The descent from Newlands wasn't too bad but only a couple of miles later we were climbing the wooded Whinlatter and my lower back was protesting, doubtless due to the seated climb of Honister, and I paused at the top to stretch a little. The next few miles were benign and then we hit the exposed slopes of ColdFell – damn, these climbs were adding up! Still, only just over Cold Fell was the last feed stop and, with Sellfield out of place on the skyline, we dropped down to Calder Bridge at 87 miles. By this stage I was properly weary but a few soft cheese and jam sandwiches and meeting Superstong Geoff and I was ready for the off (I wasn't going to mention it but since he asked me not to….Geoff was resplendent in full Retrobike kit on a carbon Scott, seatmast and all. I was keeping it real on the 7-11 Corsa Extra, pictured below. I'm saying no more on the subject).
The number of people giving the bike a nod was increasing (due to my stately progress they had more time to look at it?), which was as well as there were still three climbs to go, Irton Pike, Hardknott and Wrynose. I'd heard all the stories about the 1 in 3 Hardknott but surely it couldn't be worse than Honister? "Mate, you have no idea" said a fellow rider, encouragingly. And it was those words echoing around my addled mind, that I hit the bottom of Hardknott. With 100 miles and an estimated 3,000m plus in my legs. It's certainly steep. And long. All I'll say is that it was a nice day for a walk (I managed to walk past a couple of people who were nominally riding), but chapeau to anyone who can ride it, even from fresh.
The descent of Hardknott was, literally, terrifying. I was making very gingerly progress when, in front of me, a woman's tyre exploded, she went straight off the road and over the bars. I stopped with another couple of riders but, apart from straw sticking out of her helmet and a trashed ceramic rim, she was fine. I stayed around for 10 minutes or so but there wasn't much I could do so I headed on. On foot, as my wafer thin descending confidence was in tatters. Up Wrynose, then another walk down the other side. Surely this must finish soon?
And then I was riding into Coniston, 9 hours 40 after I'd started – I'd made it, and less than 4 hours behind Rob Jebb who was again the fastest in a scarcely believable 5 hours 47. What of my mate? He got in 20 minutes before me (I'll always claim that chivalry has it's price as we were together at the top of Hardknott although in fairness he was ahead of the crash). Finbar did an unbelievable 6 hours 47. And the Polish 'professional'? 7 hours 20, again. The power of the gourmet lamb burger compared to pasta and pine nuts should not be underestimated.
All in all, it's a stunning day out, superbly organised with a chance to tackle all the climbs in one go. Perhaps even better there is no shorter option and almost no opportunity to take a short cut if legs or machinery fail – once you set off, you're committed to the event. Literally.
Think you could do better? Of course you can, and due to the Fred Whitton Four Seasons http://www.fredwhittonchallenge.org.uk/fourseasons.php you don't have to delay until the 2011 event – so what are you waiting for?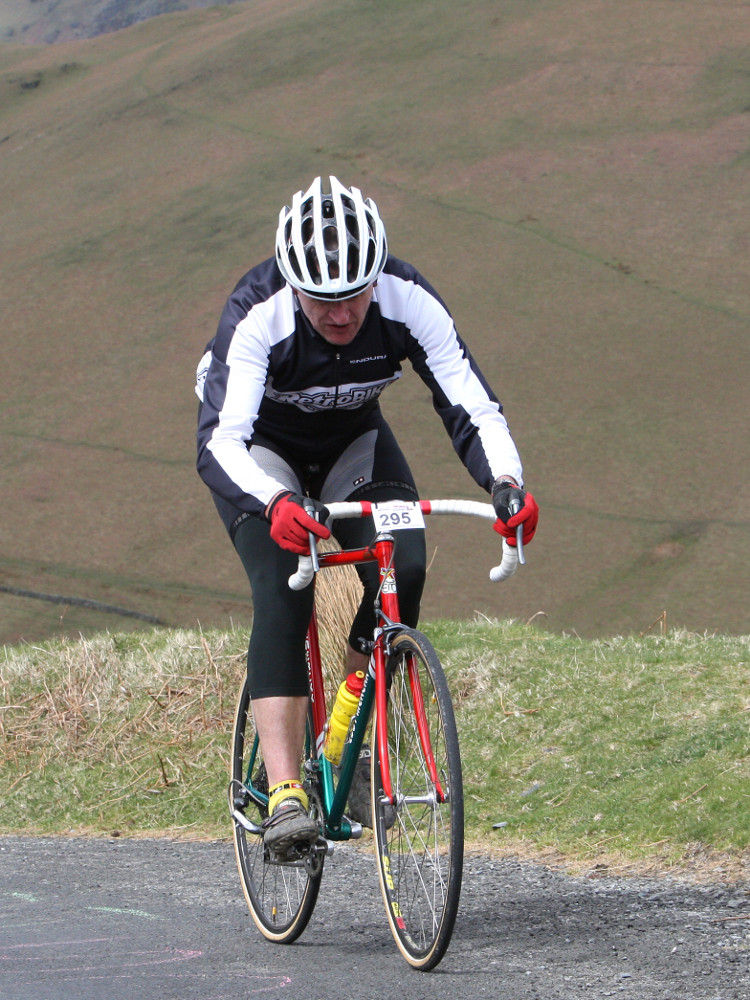 Ed Edwards battles hard for the cake stop