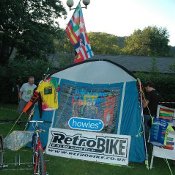 OWMTBC has always been a fairly loosely defined concept – we knew what we wanted to do but we didn't necessarily want to hard sell it down people's throats. 'Build it and they will come' was certainly my approach although I'm not sure who was Costner. It's pretty self-indulgant to write up an event you organised but I've never lacked ego-centricity so here goes.
Barely had the dust settled from OWMTBC09, indeed we were still on the ferry home, and Max had been co-opted onto the Organising Committee. A combination of fatigue and beer had him agreeing enthusiastically. And so it began, ending last Sunday in Betws-y-Coed with an impromptu Fireroad Half Wheel Challenge. But I'm getting ahead of myself. Way ahead.
In darkest, coldest October I got the call from Neil – "I've got the venue for 2010!". Slithering around the Marin Trail in the wet, 18 year old tyres protesting loudly, I wasn't convinced but hey, the views of Snowdon were spectacular, we had a good base and the sponsors were already on board, so why not? On such naïve optimism do you achieve something great or be harangued in public by middle aged men who have paid you money. Only time would tell and I figured that glass half full or empty, as long as we had a glass we'd be ok.
Neil, Max and I got together again in Spring 2010 to re-ride the course and plan logistics. This went well until, in what can only have been a fit of pique, Neil through Max off a 15 foot drop. Max's reaction was stoicism personified. Damn, it was definitely on now.
Fast forward to late August 2010. Plans had not exactly worked out as expected due to personal circumstances on my part and Max disappearing down a mine in China for 5 weeks, a drastic move but one I was increasingly to respect, even covet. Howies, Retrobike and Orange on board and coverage from 'Privateer', the offroad (butch) sister to Rapha's 'Rouleur', all we had to do was deliver. No problem for gentleman of our calibre I thought. But that was before I was confronted with the bear.