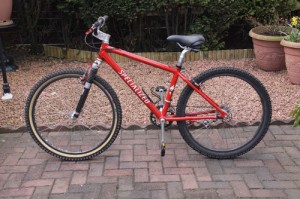 Back in 1995 the iconic UK MTB video Dirt was filmed in and around the grounds of Pete Tomkins' house in Yorkshire. Tragically one of the stars would never see the finished cut – UK MTB legend Jason McRoy's life was cut short in August 1995.
The McRoy family have owned the bike Jason rode since then but have now decided to place it up for sale, click here to see JMC's Specialized S-Works from Dirt auction on ebay
and click here to discuss in the forum.
The bike has been cherished ever since and is specced as it was for the video – with the exception of the pedals and saddle. The small S-Works frame features carbon specialized suspension forks up front, partial XT groupset, Avid brakeset, DT hugi hubs, Azonic risers and of course a red Dave's Chain Device aka the DCD. This S-Works was also raced by JMC on the dual slalom circuit that year. This is a unique chance to own a genuine piece of UK MTB history. Read on for more images of the bike..
(more…)