Category Archives:
Coolwall
The cool wall vote on Trimble has been closed. Retrobike has judged Trimble cool :D.

Next up on the vote is Spinergy.
The cool wall vote on Raleigh has been closed. The heron has been beaten
.
Despite over 100 years of history, Tour de France victories, National & World Mountain Bike Champions along with countless other wins Raleigh of Nottingham, England has been voted UNCOOL. That's right the company that brought you the Burner, Grifter, Chopper, Lizard, Mustang, Dynatech, 753 Team Professional and countless other classics has been consigned to the wrong side of the coolwall by the good people of retrobike. Raleigh has failed where Proflex succeeded.

Ah well, nevermind. Next up on the vote is Trimble.
The cool wall vote on GT has been closed. Following some complex statistical analysis it was decided GT would be 'OK'.

Next up on the vote is Raleigh. Do David Baker, John Tomac, Andy Ruffell & Joop Zoetemelk make up for the Activator, Max and Lizard? From this vote onwards we have removed the 'OK' option. No more fence sitting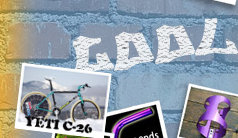 Looks like the latest coollwall vote is over already. The Yeti C-26 has been voted cool. The Yeti now joins the likes of Kona on the 'cool' side of the coolwall.
So what next? Something which may divide opinion a little more. Our next vote is on GT Bicycles. Purveyors of the triple Triangle and of course long time sponsors of Hans 'No Way' Rey amongst other noteables. Should be an interesting vote hopefully, get involved here.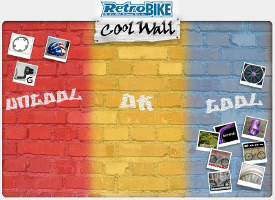 Thought it was time to bring back the retrobike cool wall .

Every month or so we will take a vote on a bike, component, style, rider, whatever. You the people of retrobike will have to decide if the article is cool or not. This will then be recorded for ever on THE RETROBIKE COOL WALL.

Previoulsy we have decided purple, kona(!), proflex(!!), manitou and fluo paint is cool.
Biopace, gripshift and etto helmets have been judged uncool.
First vote is fairly topical, check it out here!
Will return to running a monthly poll for as long as inspiration and enthusiasm lasts.
« Previous Page