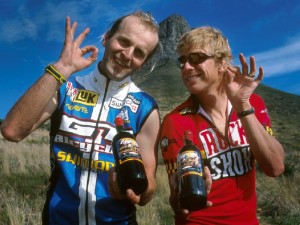 Hans Jörg Rey aka Hans "No Way" Rey will need no introduction to anyone who has ridden a Mountain Bike in the past twenty five years. The GT Bicycles veteran has multiple World and National championships under his belt but it his consistently high media profile many will know him for best. Images of Hans' spectacular mountain bike trials shows and adventures are amongst the most iconic in the sport and have graced numerous magazine covers and posters. Hans kindly took the time to answer 20 questions for us…
1) Retrobike: How's life in 2012?
Hans Rey: Life is good in 2013!!! I'm still living the dream, I'm as busy as ever riding bikes and having fun. I would have never dreamt that I would have such long and good career. I try to stay relevant to the times and my age, inspire people to ride or live their own dreams all along while making sure the sponsors get what they are looking for. I've done some great trips to Haiti (MTB Ayiti Event), Kenya & Uganda, Southern French Alps with Dan Atherton and the Lofoten Islands above the Arctic Circle in Norway.